Jan. 2019 
Written by Nina Scott


Co-Founder, GROUNDTRUTH Global 

The remote snowfields of Finse, in northern Norway, are renowned by adventurers worldwide for their Antarctic conditions. This has long been an important testing ground for polar explorers – Scott, Shackleton and Admundsen all trained in the area for their own historic expeditions, at the turn of the twentieth century.
In January 2019, GROUNDTRUTH joined polar explorer and environmentalist Rob Swan on a training expedition to Finse, ahead of his upcoming Last 300 Antarctic Expedition. Among his gear was a late prototype of the RIKR 24L backpack, which he set out to field-test on his journey into the freezing wilderness.
Before taking gear to a place like ANTARCTICA you really have to test it, any fault or mistake can be life threatening, so far my GROUNDTRUTH backpack has been great, very functional and easy to use... and it's taken a beating already!

ROB SWAN, FINSE 02.03.19
As the first person to walk unsupported to both the North and South Poles, Swan is no stranger to the challenges posed by a place like Finse – nor to the catastrophic consequences of climate change on the polar environment. He now divides his time between exploration and activism, working worldwide through his 2041 Foundation to safeguard Antarctica for centuries to come. Swan's focus on exploration and protection is closely aligned with our own philosophy at GROUNDTRUTH, and we are proud to count him among our supporters.
The GROUNDTRUTH team travelled with Swan from Oslo to Finse by rail, arriving to temperatures approaching -17˚, and set out across the snowfields. When faced with such harsh weather and merciless cold, the design of a backpack is tested to its limits; the placement of pockets and openings, and the functionality of fastenings and straps, become crucial to performance. We needed to confirm that the RIKR backpack could withstand this beautiful yet brutal environment.

Swan's field-testing confirmed that our magnetic closures worked well when insulated gloves impaired his dexterity; the air mesh strap linings wicked moisture away quickly, even in temperatures so far below zero. We made some small design changes in response to his feedback: lengthening the zipper pulls for additional grip, widening the bottle holder, and adjusting the placement of the side opening, to allow for easier access when wearing thick, protective clothing.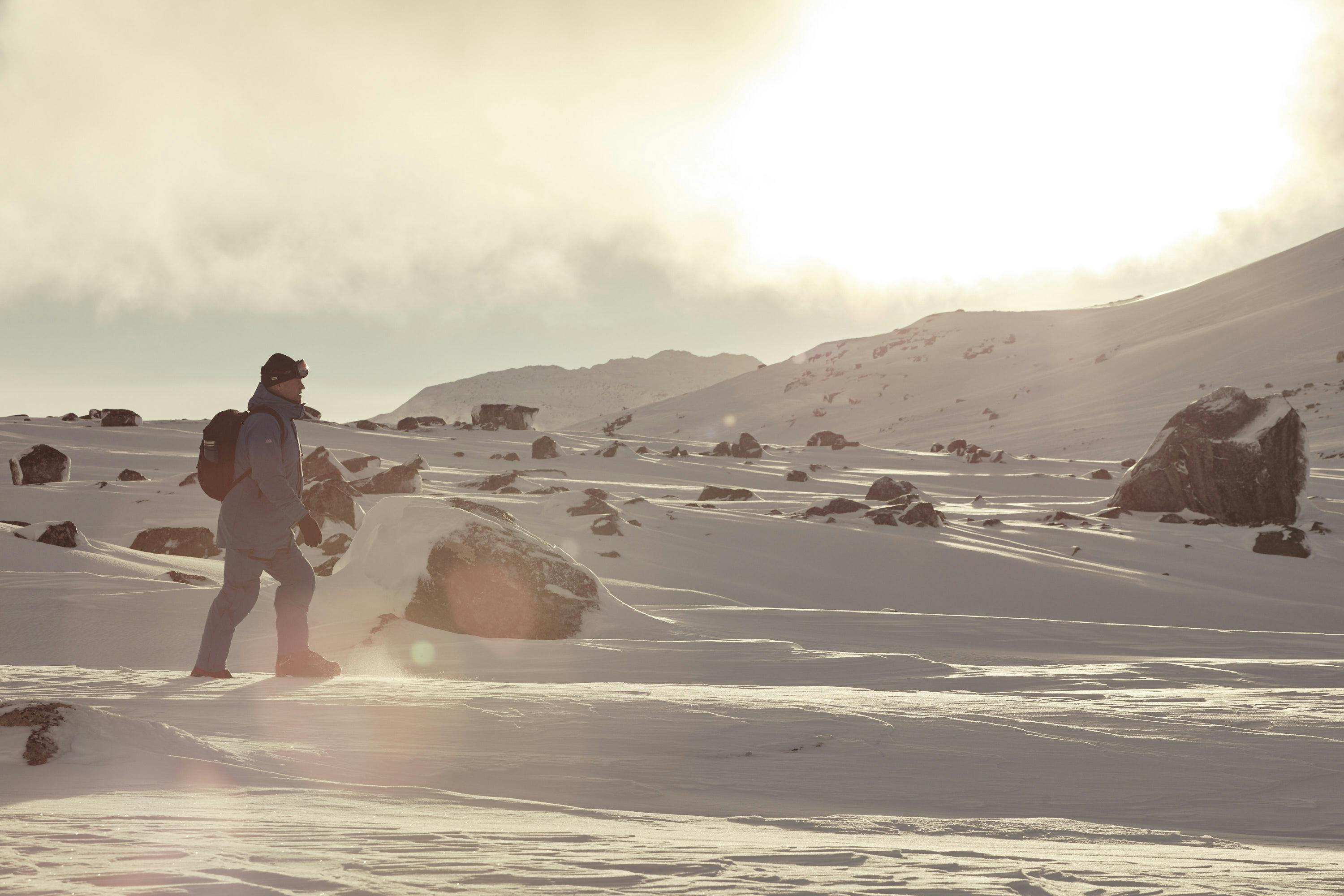 Our ambition for GROUNDTRUTH has always been to create sustainable, recycled products which can withstand the world's harshest environments. This rigorous field-testing process, in Finse and beyond, has been invaluable in achieving that aim.